What We Do
Landarch Systems Inc. is an award-winning design/build Landscape Architecture Firm, providing design, construction, and maintenance services that are overseen by Registered Landscape Architects.  Landarch Systems specializes in high-end residential and commercial projects, and has been installing landscapes on the North Shore for over 30 years.
The name Landarch Systems embodies both our product and our process. Our products are landscape spaces and features informed and enhanced by the principles of Landscape Architecture. Our process is a system of design and installation that encompasses all aspects of the landscape trades. Our methodology focuses on industry best practices that includes a disciplined proactive approach to management that anticipates potential problems and insures they are prevented.
We utilize highly trained staff and the latest technology to provide the best design solutions for our clients.  Our people emphasize old-fashioned hands on quality service, and develop client relationships that last, demonstrated by the fact that 95% of our new customers are referrals.  By using Landarch Systems Inc. you can be sure of the competent facilitation of all the aspects of your residential or commercial landscape design project.
Landscape Design Services
Every successful project begins with a well-conceived plan.  A quality landscape design takes into consideration client needs of today, and plans for tomorrow's changes and advancements. Access to the skills of a professional landscape design team will help you realize your aesthetic and functional landscape aspirations, while maximizing the impact of every dollar spent on your project. Landarch Systems' design team is supervised by experienced Registered Landscape Architects.
By choosing a Registered Landscape Architect from Landarch Systems, you can be confident in the knowledge that your designer is university educated and state licensed.  Our design team has a variety of education and experience in horticulture, design and art, construction, and environmental systems to conceive of a landscape that delights immediately and matures gracefully.  But most important, at Landarch Systems we pride ourselves as "listeners". We can transform your needs, ideas, and desires into a landscape that will provide enjoyment for years to come.
Services We Provide:
Personal Consultation with Registered Landscape Architects and Experienced Landscape Designers
Expertise in a wide range of design scales, from Master Planning for Large Estates to Perennial Gardens. Established relationships with local architects, builders, cities and villages, engineers, and contractors
Facilitation of Permitting, General Contracting and Sub-Contracting
Commercial Landscape Planning, Installation and Maintenance
---
Who We Are
Landscape Architects
Glen Tracy ASLA — Landarch
Systems Inc. Company President, Registered Landscape Architect
BS Landscape Architecture, University of Wisconsin-Madison
Email: gtracy@landarchsystems.com
Donald Peeler ASLA — Landarch Systems Inc. Company Vice-President, Registered Landscape Architect
BLA Landscape Architecture, Michigan State University
Email: dpeeler@landarchsystems.com
Glen Tracy and Don Peeler created, and have co-owned and managed Landarch Systems Inc. since 1985. Glen and Don had 18 years of combined experience in landscape design/ build companies before starting Landarch Systems. Glen started working in the nursery business when he was 15, and has continued to add to his extensive plant knowledge throughout his education and career. Glen currently serves on the Village of Glenview's appearance commission. Don prides himself on his versatility in design that has continuously evolved since his beginnings in the landscape industry in high school. Don's university years provided him with a heavy emphasis on design fundamentals and practical applications.
Marek Klejn — Landscape Architect Trainee                                                                                                                                                                                     Bachelor of Landscape Architecture (BLA), University of Illinois Urbana-Champaign                                                                                               Marek is the newest member of Landarch's team. Marek  graduated from the University of Illinois Urbana-Champaign in May 2022. He is extremely passionate about construction and design. Marek is responsible for organizing crews, design, sales, and sourcing materials. Marek is a versatile member of Landarch's team and utilizes every opportunity to assist anyone.                                                     Email: marek@landarchsystems.com                                                                                                                                                                                  
Construction
Arturo Gil — Construction Manager
Arturo has over 32 years of experience in the Landscape and Nursery fields in the Chicago area, and has been with Landarch Systems for over 25 years.  Arturo is the go-to guy for any and all questions about Landscape Construction methods and materials, and makes managing Landarch's construction crews look effortless.  Arturo is fluent in both English and Spanish, and is involved in every project installation to ensure use of only the highest quality materials and techniques.
Email: agil@landarchsystems.com
Felipe Garcia — First Line Supervisor
Felipe Garcia has been with Landarch for over 10 years and is responsible for wide range of construction and maintenance related duties. Felipe's extensive knowledge of construction techniques and materials make him a great compliment to the Landarch Team.
Landscape Designers
Matthew Cramer — Senior Landscape Designer
BS Environmental Science, Northwestern University
Matt has been with Landarch Systems for over 13 years in design, sales, and project management. Matt's knowledge of ornamental horticulture and construction methods complements his design specialization in native plantings and natural systems.
Email: mcramer@landarchsystems.com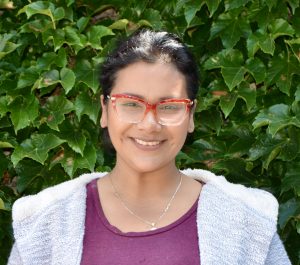 Monica Tellez — Landscape Designer
Associates Degree in Applied Science in Landscape Design, College of Lake County
Monica has been with Landarch Systems for 7 years and is responsible for the management and coordination of several projects from concept development to construction administration. Monica has worked on a wide range of projects from small residential gardens to large commercial developments.
Email: mtellez@landarchsystems.com
Maintenance
Eulojio Murillo — Crew Manager
Eulojio has been with Landarch Systems for 10 years and is responsible for leading the maintenance team. 
Everardo Martinez — Crew Manager
Everardo has been with Landarch Systems for 5 years and is responsible for leading the maintenance team.
Professional Services
Kimberlee Beltrame — Accountant
BS Accounting, Elmhurst University
Kimberlee has been with Landarch Systems for over 2 years and is responsible for preparing and maintaining financial reports.             Email: accounting@landarchsystems.com
Professional Membership
Landarch Systems Inc. is a member of:
ASLA — American Society of Landscape Architects
ILCA — Illinois Landscape Contractors Association
INA — Illinois Nurserymens Association
Chicago Botanic Garden — Green Industry Member of the Chicago Botanic Garden